Young Earth Video Menu | See All The Videos. Go to the: 30 Second Video Menu

The Age of the Earth: Carbon 14
old is the earth? Billions of years or just thousands of years?
Carbon-14 has been found in dinosaur bones, coal and diamonds. Why is that a big deal? Carbon-14, also know as carbon dating, is only valid for ages less than 100,000 years. Yet diamonds, supposedly a billion years old, carbon date to be 55,000 years old. Something's wrong. Coal is supposed 300,000,000 years old. Yet it carbon dates to 30,000 to 55,000 years old. Something's wrong. Dinosaurs are supposed to have died out 65,000,000 years ago. Yet their bones carbon date to 30,000 to 55,000 years old. Something is definitely wrong!
There should not be any carbon 14 in dinosaur bones, coal, or diamonds. But scientific studies have found C14 in all of these multiple times. What this means is that there is a problem using radioactive decay to measure ages. These C14 dating results shows two things:
Based on evolutionary thinking there should be no C14 in diamonds, coal or dinosaur bones. All of the C14 should be gone within 100,000 years. Yet, there it is. This is powerful evidence that the earth is young.
Second, this shows that C14 dating is not reliable nor accurate in some circumstances. Based on the Biblical time line we know that these objects cannot be more than 6,000 years old. In addition the RATE study has shown that there were periods of accelerated radioactive decay several thousand years in the past. Where C14 dating can be calibrated using historical artifacts of a know age, C14 produces good results. However, when we get beyond that, it is not a reliable dating method.
More Information
Carbon-14 in Fossils and Diamonds: An Evolution Dilemma (AIG Article)
Carbon 14 in Coal? It shouldn't be there! (CMI Video)
Diamonds: a creationist's best friend (CMI Article). Includes answers to objections to the finding of C14 in diamonds.
Measurable 14C in Fossilized Organic Materials: Confirming the Young Earth Creation-Flood Model (AIG Technical Paper)
THE GOOD NEWS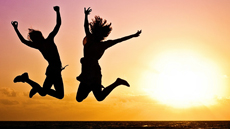 What makes this good news is the bad news about you:
For all have sinned and fall short of the glory of God. - Romans 3:23
Sin means breaking the law. In this case God's law. This is bad news because perfection is required by God. Lawbreakers must pay the just penalty for breaking the law. That penalty is the lake of fire (the second death).
All liars, their part will be in the lake that burns with fire and brimstone, which is the second death. - Revelation 21:8
Have you ever told a lie? Have you ever taken something that does not belong to you, no matter how small? Have you ever looked at another person with lust? In Matthew 5 Jesus said:
You have heard that it was said, 'You shall not commit adultery'; but I say to you that everyone who looks at a woman with lust for her has already committed adultery with her in his heart.'
You have broken God's laws. You have sinned. There must be justice, and that means eternity in hell, the lake of fire, the second death. Unless...
Unless there was someone willing to pay that penalty on your behalf. Someone who will take on themselves the consequences you deserve. And there is. There is one person who can and will do that. That person is Jesus Christ. If you trust this is true, and repent (turn away from disobeying God), Jesus' death is applied to your account and you are freed from the penalty of sin to be with God forever.