THE SCIENCE PASTOR
The Science Pastor is a ministry of Move to Assurance (MTA). MTA is an evangelism and apologetics ministry with the purpose of glorifying God by proclaiming Jesus Christ as Lord and Savior. The Science Pastor focus' and proclaiming the truth of God's word and showing that science does not overrule God's Word, but reveals the truth of God's Word.
The purpose of the Science Pastor web site is to provide resources that help believers grow strong in their faith and to help build their confidence when talking about their faith with others. Our purpose for non-believers is to help them see the perfect fit between science and the Bible.
PRAYER SUPPORT
Please be praying for this ministry:
We ask for your prayers thanking the Lord for how He has provided for and protected this ministry. We know He is in control, and all that happens is within His will, whether or not we see it, from our human perspective, as being good or bad. The Lord reigns!
Please be praying that our desires always be in alignment with His desires. Ask the Lord to continually lead us, and guide us, and use us to accomplish His purposes. We are His to use as He wills.
FINANCIAL SUPPORT
If you'd like to help this ministry financially, and after supporting your local church, we appreciate your financial support.
Financial Support May Be Mailed To:
Move To Assurance
P.O. Box 277
Cannon Beach, OR 97110
Use this button to donate online using a credit card or via PayPal.

Your donation will be shown as going to Move to Assurance. The Science Pastor is a Move to Assurance ministry. Move to Assurance is a 501(3)c nonprofit corporation. All donations are tax deductible.
THE WIDE OR
NARROW WAY?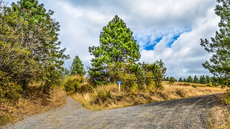 Most people choose the wide road. It's the way everyone else is going. It's wide and it's an easy road, so it must be the right road. But it's the wrong way!
Enter through the narrow gate; for the gate is wide and the way is broad that leads to destruction, and there are many who enter through it. For the gate is small and the way is narrow that leads to life, and there are few who find it. - Matthew 7:13
The wide road, and wide gate is our choice based what feels good. But our feelings (our heart) are deceptive.
The heart is more deceitful than all else and is desperately sick; - Jeremiah 17:9
Christianity... meaning belief in Jesus Christ... is not a blind faith driven by emotions. It is an informed faith, based on historical facts and truth.
The truth is that we are law breakers (sinners) in need of a Savior from the just wrath of God. That Savior is Jesus Christ.
Trusting Jesus is not the easy way. It is the narrow road, through a narrow gate, and it can be difficult at times. But it is the right way to go. And it is the only way to have eternal life in Christ Jesus.
Trust Jesus. Believe in the Lord Jesus, and you will be saved. - Acts 16:31