Jesus, The Son of God | See All The Videos. Go to the: 30 Second Video Menu

Was Jesus' Resurrection Real or Fake?
Did Jesus actually rise from the dead? Did He actually die on the cross and then was later seen walking with, talking with, and eating with His friends? Historians use a set of tools and rules to verify the occurrence of past historical facts. These are called the criteria of authenticity. When these are applied to Jesus' crucifixion and resurrection, the answers come back, yes, this was real. Jesus did rise from the dead.
There Were Eye-Witnesses to His Death and Life After Death
Jesus Was Dead
Roman soldiers had a lot of experience crucifying people. No one came off the cross alive.
So the soldiers came, and broke the legs of the first man and of the other who was crucified with Him; but coming to Jesus, when they saw that He was already dead, they did not break His legs. But one of the soldiers pierced His side with a spear, and immediately blood and water came out. - John 19:32-34
There was no question he was dead, and no question he was alive several days later. He was seen alive by more than 500 witnesses! The men in power (the Jewish leaders) wanted Jesus dead. If anyone could have provided evidence the disciples were lying about Jesus being alive, they would have been handsomely rewarded. Many of those who had seen him alive were still living when the gospel accounts were written. The eyewitness testimony was that Jesus had risen from the grave proving there truly is life after death.
"Christ died for our sins according to the Scriptures, and He was buried, and He was raised on the third day according to the Scriptures, and He appeared to Cephas (Peter), then to the twelve. After that He appeared to more than five hundred brethren at one time, most of whom remain until now, but some have fallen asleep; then He appeared to James, then to all the apostles; and last of all, as to one untimely born, He appeared to me (Paul) also." - 1 Corinthians 15:3-8
More Information
Surprising Scholarly Agreement on Facts That Support Jesus' Resurrection (News Article)
Did the Resurrection Really Happen? (AIG Article)
Is the resurrection of Jesus Christ true? (GotQuestions.org Article)
WORRIED? ANXIOUS?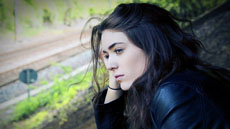 THE ANSWER IS...

Jesus does not promise to take away all your troubles. He promises those will get worse. But, Jesus does promise to free you from worry and anxiety.
How does that work?
The Bible says, Be anxious for nothing... (Philippians 4:6) Why? When you trust Jesus, no matter what happens in this life, you will spend eternity with God... and that is VERY GOOD.
And do not be afraid of those who kill the body but are unable to kill the soul; but rather fear Him who is able to destroy both soul and body in hell. - Matthew 10:28
Who can destroy your body and soul? Only God. (Not Satan) However, God does not send you to hell, you do that when you disobey God. However, God created hell, aka. the lake of fire, the second death (Revelation 21:8).
You can be rescued. Jesus Christ (God) died on the cross to save all those who believe in Him... all those who trust Him to pay their just penalty for disobeying God.
Trust in Jesus and you'll know your time on earth is like a wisp of smoke that vanishes in the wind. Trust that Jesus did pay YOUR penalty for sin. Repent. Turn away from disobeying God.
Believe in the Lord Jesus and you will be saved. (Acts 16:31) and there will no longer be a reason for worry or anxiety.